Lodge 1874 MEN & WOMEN
LODGE DUES $50 per YEAR
NEW MEMBERS ONLY ADD ONE TIME APPLICATION FEE $20 TO JOIN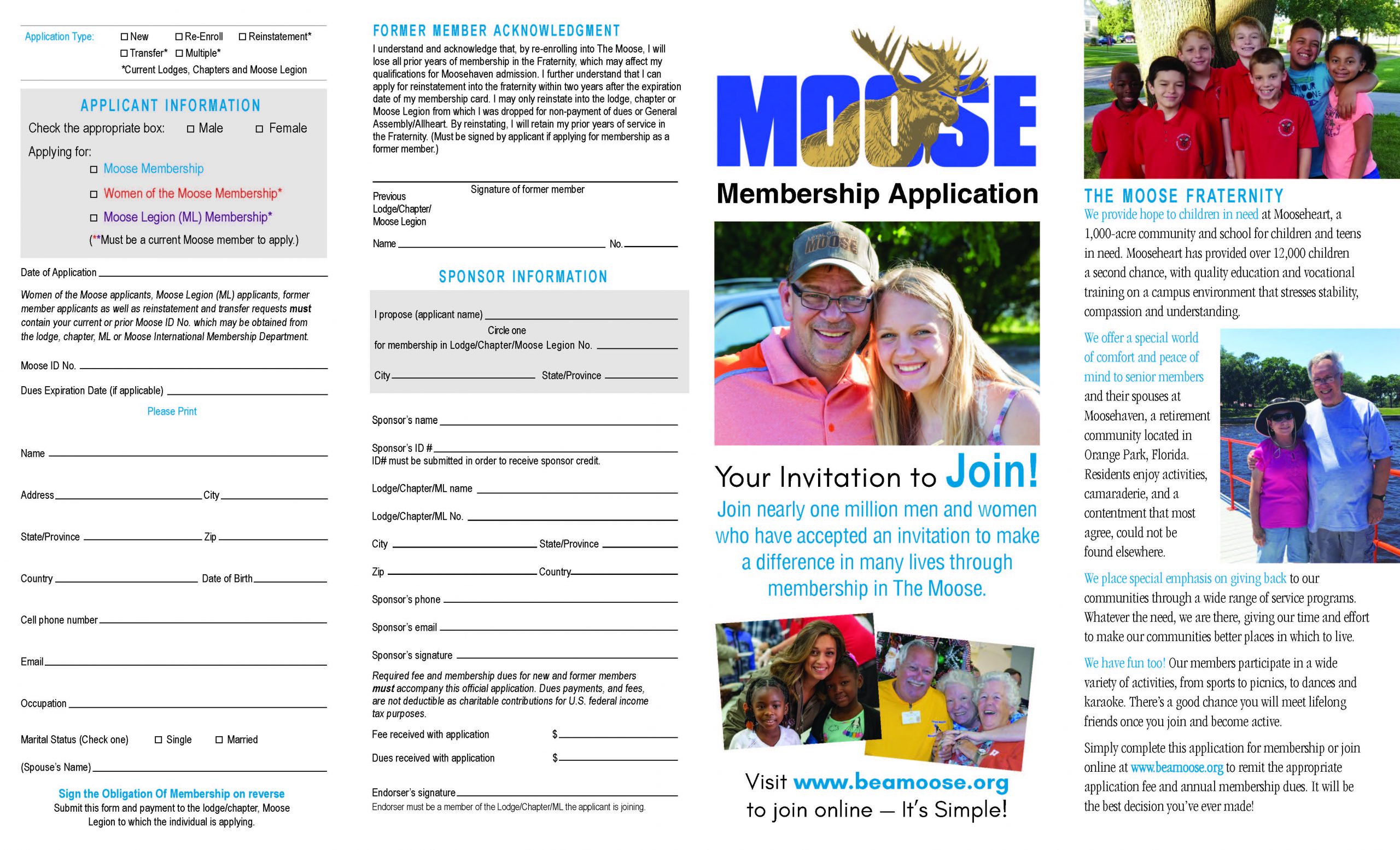 BOARD OF OFFICERS
President
–
 TINA FARRELL
Vice President
–
 DALE PULVER
Jr. Past President
–
 ALAN KOSBAB
Chaplain
–
 JEANNE PULVER
Administrator
–
 DAN PAPP
Treasurer
–
 CHARLY PAPP
1 Year Trustee
–
 CINDY MINTZ
2 Year Trustee
–
 JOE McCOVITCH
3 Year Trustee
–
 MICHELE FETTIG
APPOINTED OFFICERS
Sergeant at Arms
–
 PHIL PONTO
Inner Guard
–
 
Outer Guard
–
 
COMMITTEE CHAIRS
Membership
–
 
Moose Legion
–
 
Application Review
–
 
Endowment Fund
–
 
Activity Chairman
–
 
Community Service
–
 
Newsletter
–
 CHARLY PAPP
 
 
 
MOOSE
THE FAMILY FRATERNITY
"An international organization of men and women dedicated to caring for young and old, bringing communities close together, and celebrating life."
Who wouldn't want to be part of something like that? Well, you now have the opportunity to join with more than one million men and women who have accepted an invitation to make a difference in many ways and in many lives – through membership in the Moose.
We provide hope to children in need at Mooseheart, a 1,000-acre community located in the Fox River Valley 40 miles west of Chicago, Illinois. Our "Child City" residents receive a quality education and vocational training while living in an environment that stresses stability, compassion and understanding.
We offer a special world of comfort and convenience to senior members and their spouses at Moosehaven, a peaceful retirement community located in Orange Park, Florida. We add life to their years and years to their lives at our "City of Contentment".
We place special emphasis on giving back to our communities through a wide range of service programs. Wherever and whatever the need, we are there, giving of our time and effort to make our communities better places in which to live.
We offer a wide variety of activities in which members participate and share their interest with others. From bowling and pool to dances and karaoke to picnics and theme parties – they're all waiting for you. And not just for you, but for your entire family.
Once a member, you will have the chance to enjoy all the rights and privileges enjoyed by Moose members throughout the United States, Canada, Great Britain and Bermuda. Simply complete this application for membership and remit the appropriate application fee and annual membership dues.
You and your family will soon be saying, "This is the best decision we ever made."